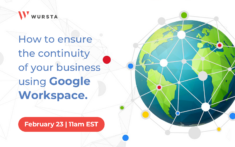 How to Ensure the Continuity of your Business using Google Workspace
Overview
In today's fast-paced business environment, it's essential to have a robust enterprise continuity backup strategy in place for when email and communication tools go down. 
With Google Workspace, you can ensure that your business stays up and running, in the event of any system outage by seamlessly switching to Google as your mail provider during these outages.
Join Us on February 23rd, to hear from our VP of Cyber Security and Practice Lead, Digital Workplace Specialist, Pete Hoff, and Patrick Della Peruta on the importance of business continuity during email outages and how Wursta is helping companies take the steps needed to have a continuity plan in place via Google Workspace. 
During this webinar, we'll discuss how Google Workspace can help you maintain business continuity, even in the face of unexpected disruptions. 
We'll cover topics such as:
How to use Google Workspace to create a robust enterprise backup continuity strategy without a migration

How to use Google Workspace to maintain productivity,collaboration, and communication

Connecting to your Active Directory

Reduction of your Cyber Security Insurance Policies with a business continuity plan
Take advantage of this opportunity to learn how to protect your business and minimize risk exposure! Sign up for our webinar today and take the first step towards a more resilient business.
Agenda
Business Continuity Overview

Using Google Workspace as a Business Continuity Plan

How we can help the Procedures and Outcomes of the Plan

And more!
Details
Date

Time

Time: 11 AM EST; 10 AM CST

Duration

45 Mins

Cost

Free
Presenters
Pete Hoff
VP, Cybersecurity & Risk, Wursta
Patrick Della Peruta
Practice Lead, Digital Workplace, Wursta