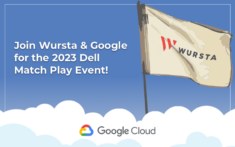 Join Wursta & Google for the 2023 Dell Match Play Event in Austin
As a Google partner, we are excited to announce that Wursta is sponsoring the 2023 Dell Match Play event in Austin from Wednesday, March 22nd through Sunday, March 26th! As you may know, Dell Match Play has been held since 1999 and is the only World Golf Championship that uses the match-play format.
For this year's event, you have the opportunity to join us and Google Cloud as we have our head in the Cloud in the best spot in town. Overlooking three holes on the back nine, this location offers great views of the game as well as complementary food and drinks as we "drive" into what it means to be a part of the Cloud. 
If you're interested in attending this exclusive event, please fill out the form and a rep will be reaching out to discuss details and see if we can get you an official invite. This is an invite-only event so space is limited.