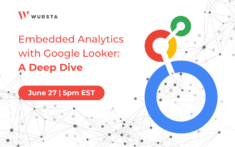 Embedded Analytics with Looker: A Deep Dive
Overview
Looker, a part of Google Cloud, is a cloud-based business intelligence (BI) platform that helps companies explore, share, and visualize data. This powerful tool that can be used by your organization leaders to gain insights into their data.
Wursta is partnering with Google and Looker to deliver an in-depth demonstration of how to successfully use embedded analytics within the Looker platform. This deep dive will show you the product in action so you can apply it to your teams, with high-level use cases and expert knowledge on why embedded analytics with Looker will help your users make better decisions with data and improve your overall business performance.
Benefits of Looker and embedded analytics include:
Increased user engagement
Improved decision-making
Reduced development costs
Increased security
This live webinar will provide an in-depth look at embedded analytics with Looker. We will cover the basics of embedded analytics, the different ways to embed Looker dashboards and reports, and the benefits of using embedded analytics
Agenda
Introductions

High Level Overview of Looker

Demo of Embedded Analytics

Q&A & more!
Details
Date

Time

Time: 5PM EST; 4PM CST

Duration

1 Hour & 30 Mins Q&A

Cost

Free