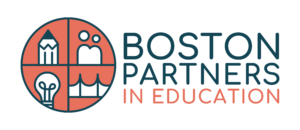 Boston Partners looks to Wursta for a unique Google to Google for Nonprofits migration
Boston Partners in Education has been providing aid to public schools in Boston for over 50 years. They match students in grades Pre-K through 12 with an academic mentor to support their academic achievement and socio-emotional growth. They do this by providing focused, individualized, and, until the pandemic, in-school volunteer support.
Having a trusted partner who could help walk us through a lot of stuff and patiently explain things to us has been a real blessing.
400
Volunteers recruited virtually
42
Wursta volunteer hours spent post-migration
56GB
Of drive data migrated
The Challenge
Boston Partners in Education knew that a big move would be coming at the beginning of the year when they began planning to relocate their headquarters. This move was not just about building space; the company they were housed with, public health consulting company JSI, also managed Boston Partners' IT infrastructure. JSI would no longer be managing that once Boston Partners moved into a new space. Then, when the pandemic caused everyone to work remotely, Boston Partners had to completely shift their focus and become more self-sufficient in the Cloud. "Being in the cloud is a necessity," states Jim Laudisio, COO at Boston Partners.
Jim was referred to Wursta to help implement a Google to Google for Nonprofits migration. G Suite is one of Boston Partners' main operating systems, so it was essential that they make this transition as smooth as possible. "It's crucial to us that we are able to continue to speak to our partners…that we are able to share files, develop plans, have video conferences — all of this communication is more crucial than ever," said Jim.
The Solution
Joe Wilson, Technical Delivery Manager at Wursta, was able to set up the Boston Partners team with a Google to Google for Nonprofits migration in 8 weeks, seamlessly transitioning the team onto their own instance. Because all aspects of Boston Partners' IT infrastructure were managed by JSI, Wursta helped with not only data migration but domain ownership as well.
The Results
Given the complexity that comes with being integrated into another business's IT system, this process went very smoothly. It was explained to Jim and his team in a way that helped them understand not just what was happening, but why. Joe was generous with his time and his expertise in educating Boston Partners on any issues that could come out of the migration. Specifically, Joe advised the team on security issues and helped set up 2-Step Verification. Jim's goal was for the Boston Partners team to be more self-sufficient with their management of the cloud and Wursta has helped them achieve that.
"Annually, we recruit about 600 volunteer mentors – all of whom will need to be interviewed and trained online rather than in-person this year. In a typical year, we reach nearly 4,000 students in the Boston Public Schools, but given the increased need for mentor services right now, that number could certainly increase.  G Suite will play a role in helping us achieve all of this – communicating with mentors, checking in with teachers about their students, and, of course, collaborating as a staff to keep these programs operating," said Chris Cotrone, Director of Marketing at Boston Partners.
Back to all Case Studies