We're Launching 3 New Salesforce Services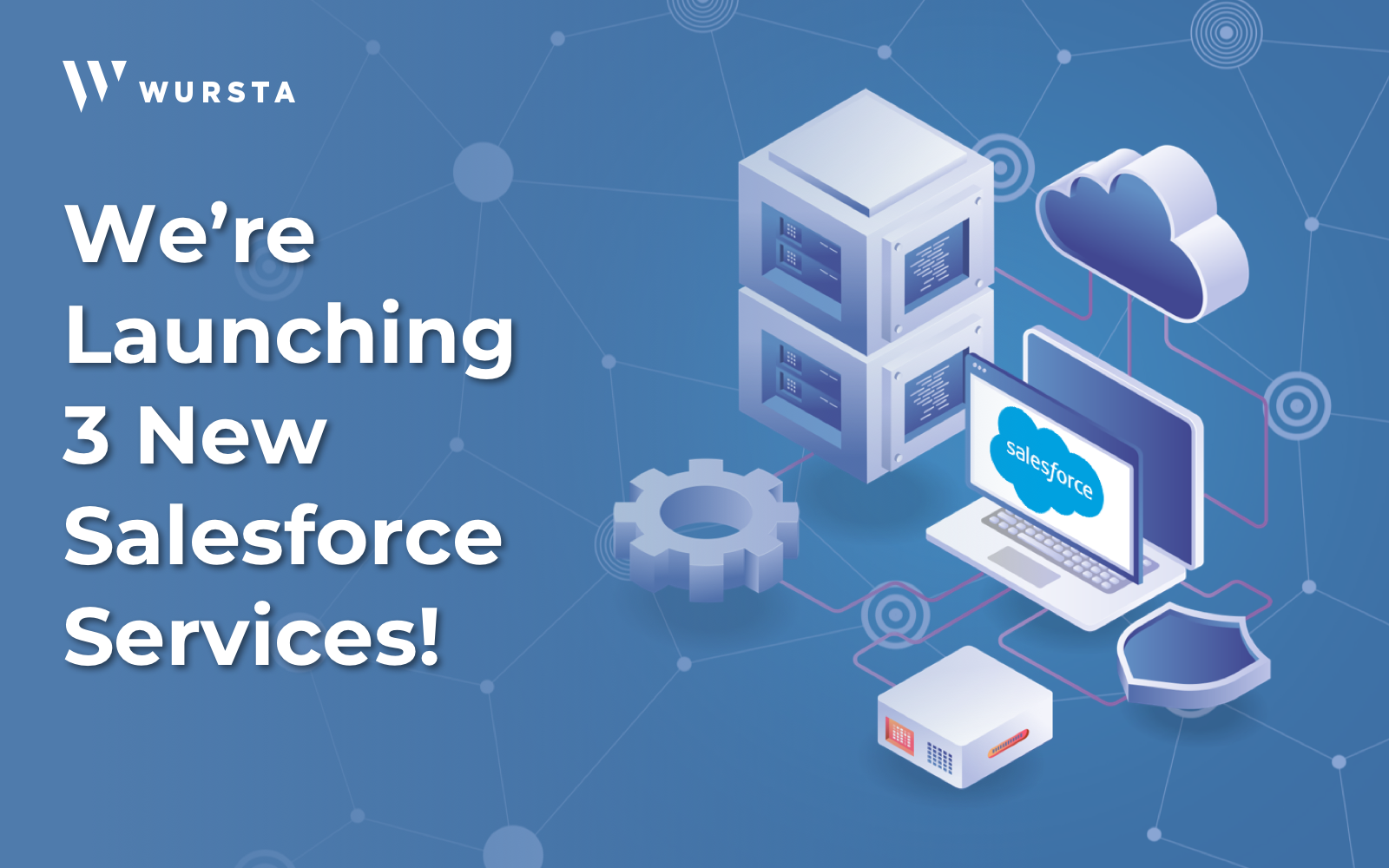 Wursta is a Premier Google Partner, but Google is not our only partner. We support the best-of-breed tools that benefit our customers, and for many, that includes Salesforce.com. Wursta is pleased to announce the launch of three new services to support your productivity and collaboration with Salesforce.com.
These new services align with Wursta's mission to help organizations maximize their use of the cloud, to enable them to compete in a modern world. Our Salesforce and Google Workspace connectivity services save time, reduce costs, and improve productivity. Often, leveraging support from Wursta is more economical than taking on the expense of an additional full-time employee.
Salesforce Assessment
Understand Your Settings & Their Impacts, Get an Actionable Project List
We know that as long as leads are being entered and opportunities closed, Salesforce configurations often remain unexamined. With the Salesforce Assessment, Wursta reviews your current Salesforce settings and examines how they measure against best practice.
This deep dive exposes risks you're currently facing and lists potential improvements. We prioritize suggested improvements, such as workflow optimizations and release updates to apply.
Salesforce & Google Workspace Connectivity Services
Save Time, Reduce Costs, & Improve Productivity
By integrating Salesforce and Google Workspace, you can enhance and customize your environment, supercharging the Salesforce experience for your team. A variety of powerful integrations can boost your team's productivity and collaboration, while enhancing security. Services cover:
Salesforce Files Connect for Google Drive
Single source of truth for files, eliminating version control worries
Time savings (less switching between Salesforce & Google Drive)
Enhanced security by eliminating file replication
Reduce Salesforce cloud storage costs by eliminating duplicates
Google Single Sign-On (SSO) for Salesforce
Enhanced security, with the removal of an extra access layer
Ease user experience, reducing admin burden
Fewer passwords for users to track
Time savings (per user, per login)
Salesforce Einstein Activity Capture
Centralize visibility, saving time (less switching between Gmail & Salesforce)
Google calendar events in Salesforce activity tab
Google calendar event reminders within Salesforce
"The team from Wursta has done an amazing job in developing our salesforce instance to fit the needs of our many internal teams here at General Catalyst. Their ability to manage multiple stakeholders, projects and timelines simultaneously has enabled our teams to iterate fast on ideas and make the most of salesforce as a platform." – Jon Rehagen, General Catalyst
Virtual Salesforce Admin
Expand Your Team's Bandwidth
With a Wursta Virtual Salesforce Admin, you can improve the user experience in Salesforce, while offloading administrative tasks to expand your team's bandwidth. A Wursta Virtual Salesforce Admin serves as an extra set of hands to execute important tasks while helping you move towards best practices. We support rapidly growing businesses and organizations needing to supplement in-house Salesforce resources.
Supporting Salesforce at Your Organization
Wursta has supported Salesforce integrations for years, and we're excited to roll these services out to more clients to further boost productivity. Contact us if you'd like to discuss how we can help you.