2022 Round-Up: Major Google Workspace & Cybersecurity Updates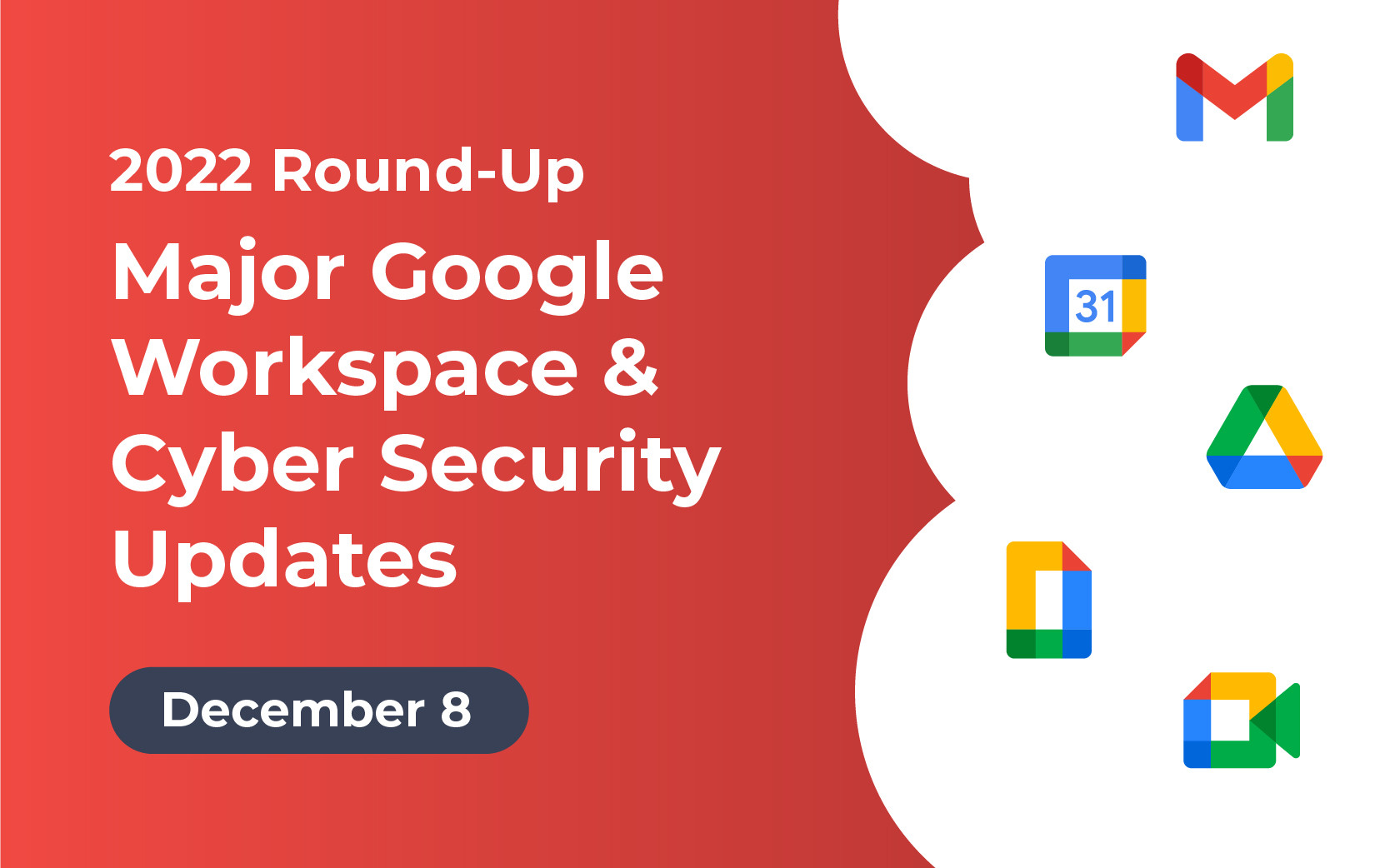 We've rounded up the most innovative updates from Google throughout the year, along with some brief info on how to apply it to your teams. 
1. Gmail Layout
Earlier in 2022, Google redesigned the Gmail web interface and recently made it the permanent standard for all users. This new layout is organized in a more concise way, and aims to integrate Gmail, Chat, and Meet more seamlessly in one view.
If your team needs help adjusting, you can try keeping Chat open in a separate tab in addition to Gmail or download the desktop app to use both at the same time. You also have the option to customize the panel, for example, by disabling apps in Gmail view.
2. Calendar Updates
One new feature allows you to designate your working hours and location, specifying when you'll be in the office versus remote, as well as specifying which building you'll be working in.
When scheduling meetings, timeslots outside of your colleagues' working hours are visualized in gray to indicate the lack of availability. When you're scheduled to be working remotely, your response will automatically indicate that you'll be joining a meeting virtually.
In Chat, icons next to people's names display when they're out of office or in the midst of "focus" time. Finally, a new layout for Calendar emails makes key event details more accessible and useful, especially for updated events.
3. Appointment Schedules
Google provides a convenient and easy way to set time aside on your calendar for people to book meetings with you through Appointment Schedules. These schedules communicate well with external calendar platforms such as Outlook. There are many options for customization, and you can create multiple schedules or links for different types of appointments. These appointment schedules are easy to share with other people, such as inserting a link online or including in an email signature.
4. Google Drive & Google Docs
Use new table templates and dropdown chips in Google Docs to create highly collaborative documents. Type the @ symbol in Google Docs or Sheets to see the possibilities.
With Google Drive labels, you can categorize content and enhance content protection at scale. Admins can now automatically apply up to 5 blank labels to all new files or newly created files. When applied, users will be prompted to fill out a certain field in Label Manager, thus giving more control over how documents can be shared.
A new email draft template in Google Docs makes it easy to collaborate on an email. Finally, new features enable seamless connections across apps, such as viewing and editing files directly with Google Chat. 
5. Google Sheets
The cell limit in Google Sheets is doubling from 5 million to 10 million cells.
Updates to Smart Canvas include the rollout of smart chips to Google Sheets, which were previously rolled out to Google Docs in 2021. Smart chips enable you to insert other Google Drive files, calendar events, etc. directly into a sheet, with it appearing as a button, for a cleaner look. Upon hovering your mouse, it displays additional info.
6. Security
Google now offers an added layer of encryption with client-side encryption. Within Google Drive, you can encrypt your data through your browser with an add-on, using your own encryption key.
At the Google Cloud Next conference in October, Google revealed plans for the Mandiant and Siemplify acquisitions to strengthen its Chronicle Security Operations platform.
Chronicle Security Operations comprises Chronicle SIEM, Chronicle SOAR, and threat intelligence. Chronicle has a fast AI engine to detect threats so you can investigate and respond. With SOAR, you can automate a sequence of events to occur in response to a threat without the need for manual analyst interaction.
Additionally, you can now apply contextual rules to protect access to the Admin console. For example, you can enable restrictions based on IP and minimum device operating system version.
Wursta is launching security monitoring services in Q1 2023 to help businesses do security monitoring and threat hunting. 
7. Beyond Corp & Zero Trust
BeyondCorp, Google's implementation of the zero trust model, further secures access with contextual analysis and rules to ensure devices and the networks they're coming from are secure. It helps companies create multiple checks and assessments throughout interactions with Google Cloud services to ensure systems and users' data all remain secure.
Beyond Corp is helping make policies more granular, expanding a company's options. Depending on your organization's risk appetite, you can enforce granular rules for each user, such as enabling access from anywhere for users who don't access high risk data. With hundreds of settings, the complexity gets difficult to configure, which is where Wursta can step in and assist, such as setting rules and context around identities and devices.
It's virtually unnoticeable to end users that they are running under zero trust, except if they violate policy or encounter a denial of access.
8. Data Loss Prevention (DLP)
Data Loss Prevention changes include improvement to the rules engine and expanded monitoring capabilities to include Google Chat and Meet. You can set rules in those apps and identify when data is lost, all using the same general rules as for Gmail and Drive. DLP now monitors for PII data and blocks users from copying from the Chrome browser.
Google expanded capabilities to identify risk on the desktop. Through Chrome profiles, you can enforce rules through the Chrome browser. Other DLP products on the market require installing a client on the local desktop, but with Google it's now enforced on the browser.
9. Google Meet
With picture-in-Picture and multi-pinning available for Google Meet in Chrome, you can see up to four floating video tiles on top of other windows. This allows you to still see what is going on in the meeting if you need to reference another tab or window.
Ahead of meetings, meeting organizers can set up breakout rooms in advance, turn moderation settings on or off, and designate co-hosts in Google Calendar.
Now generally available, English meetings can be Live Captioned translated to Spanish, French, Portuguese, and German.
Google has improved the experience for removing participants from Google Meet calls. When removing a participant, you'll be prompted to just remove them, fill out an abuse report, and/or block the user from rejoining the call.
Contact Wursta if you'd like to discuss support for security or organizational change management. Our team supports your roll out of new technology, taking your users through what could be a frustrating stumble and swiftly makes them power users.