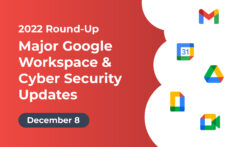 2022 Round-Up: Major Google Workspace & Cyber Security Updates
Overview
This has been quite the year, Google has released many updates throughout 2022. As the year ends, we'd love to highlight some major updates from Google Workspace and Cybersecurity using the Google Platform. Our goal at Wursta is to be your technology partner so we want to keep you up to date with all things Google to ensure you are getting the most of your IT investments!
Join us on Thursday, December 8th; you'll hear from our subject matter experts, Pete Hoff & Cait Q with all the major updates in Google Workspace & Cybersecurity using Google. In this session, we will cover the essential tools released this year in Google Workspace that will allow you to supercharge your business's productivity & the in-depth new Google Security offerings to protect your company from all types of cyber attacks.
After this session, you'll be on your way to walk into 2023 prepared to get the most out of your investment in Google & ready to crush your new year business goals.
Agenda
Google Workspace Updates

Google Workspace Tools

Cyber Security Recap & Updates

Live Demo
Details
Date

Time

Time: 3:00 PM EST; 2:00PM CST

Duration

1 hour

Cost

Free
Presenters
Pete Hoff
VP, Cybersecurity & Risk, Wursta
Cait Qualkinbush
Senior Change Management Specialist