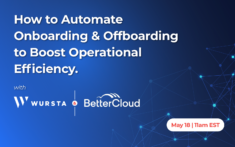 How to Automate Onboarding and Offboarding to Boost Operational Efficiency
Overview
As you may know, IT teams are often stretched thin. They are expected to do more with less and don't get the right resources to keep up. Therefore, the ability to automate IT's user lifecycle management tasks is more important than ever for your organization in 2023.
Join us on Thursday, May 18th at 11 AM EST, as we partner with BetterCloud, the leading SaaS Management Platform, to dive deep into the ways the platform can boost your team's operational efficiency by eliminating up to 78% of SaaS management work.
After this webinar, you will be on your way to supercharging your team's productivity by automating tasks and being set up for success to understand the tactics and strategies needed to implement the platform within your environment.
By registering, you will be eligible for a complimentary SaaSOps assessment of your environment with BetterCloud!
Agenda
What user lifecycle management tasks they can (and should) automate

Tactics and strategies that don't take months to implement

How they can quickly see value and ROI by leveraging an SMP like BetterCloud

And more!
Details
Date

Time

Time: 11 AM EST; 10 AM CST

Duration

1 Hour

Cost

Free