What CIOs can do to prevent downtime during the next cloud outage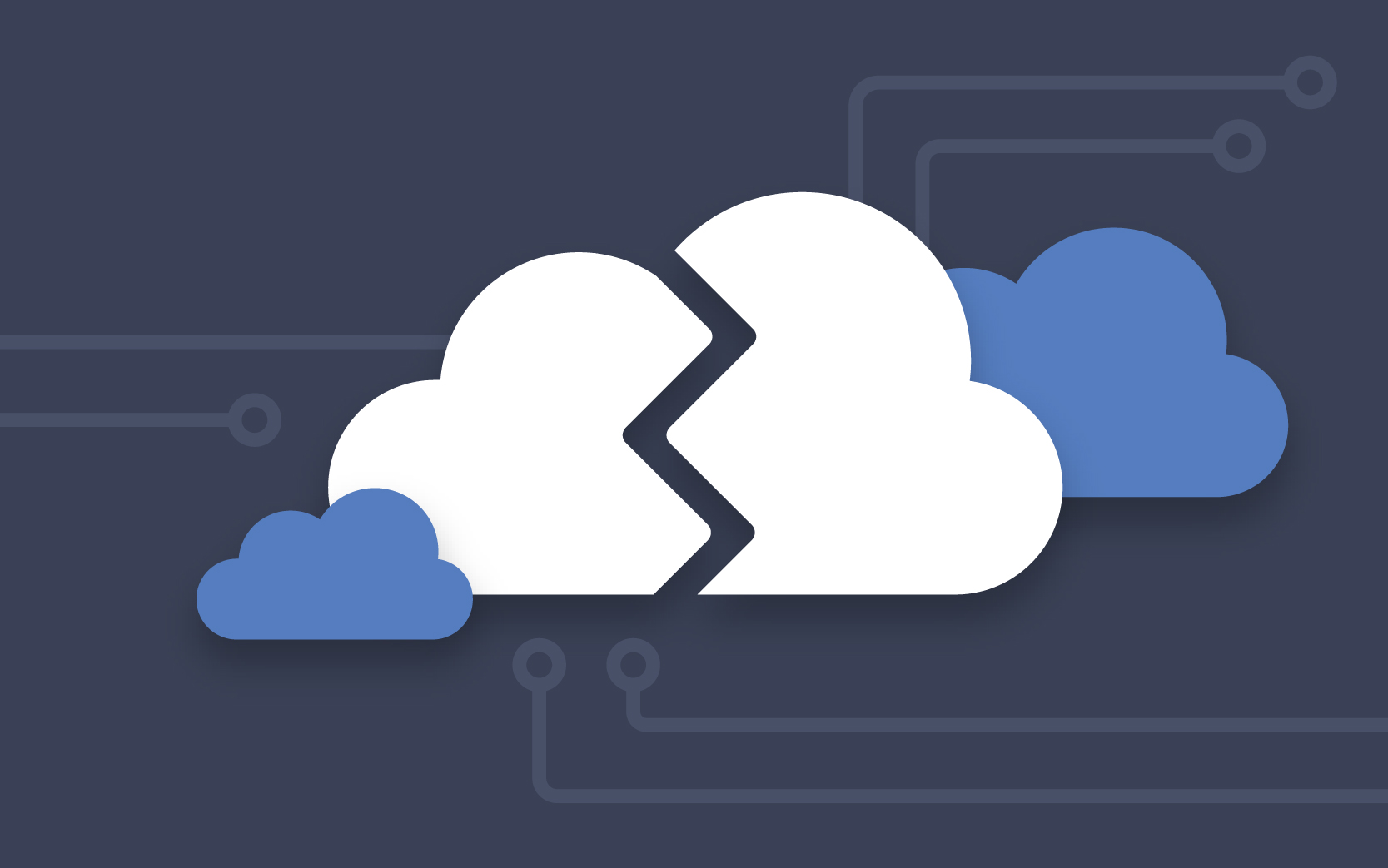 Last year in early December, AWS servers were down for more than 5 hours and companies experienced thousands, if not millions, of dollars in lost revenue. Businesses across the country were impacted.
Cloud outages are becoming recurring events
As businesses migrate to more secure and scalable systems (i.e. cloud-based systems) outages will continue to happen. There is little we can do to prevent them, however, staying resilient and redundant with your data and security operations will prevent downtime.
How to prepare for the next cloud provider outage
As an IT expert, you're well aware of the benefits of multi-cloud and hybrid cloud solutions. A variety of toolkits in your infrastructure arsenal keep you secure, and provide backup should one system fail. Let's dive into more specifics.
Multi-cloud or hybrid cloud approaches: what you need to know
Cloud services are no longer a trend; they are a necessity. They have become indispensable technologies for companies – small, medium, and large – to have immediate availability of their information, regardless of where their collaborators and managers are.
"According to a study by the International Data Group, 69% of businesses are already using cloud technology in one capacity or another, and 18% say they plan to implement cloud-computing solutions at some point. At the same time, Dell reports that companies that invest in big data, cloud, mobility, and security enjoy up to 53% faster revenue growth than their competitors," states Salesforce in their article on cloud computing benefits.
Due to the multiple advantages offered by the implementation of these tools, the market intelligence firm IDC affirms that 2021 was the year in which many organizations migrated to multi-cloud environments, as different types of cloud solutions provide the agility and flexibility corporations need to continue responding to the dynamics of the "new normal."
The multi-cloud concept refers to the technology strategy that allows implementing different cloud services, whether public, private, or hybrid. The objective is for corporations to optimize their resources and minimize risks since the interconnection to the different services of the suppliers facilitates innovation in the corporations.
Distributed cloud as a solution
Although the most well-known multi-cloud solutions are public, private, and hybrid cloud, distributed cloud is a technology that belongs to the multi-cloud world and has gained popularity in the last year. It is a solution that relates directly to the Internet of Things (IoT) and machine learning.
It is also known as edge computing: data centers that seek to bring services closer to the locations that require them and accelerate speed through geo-position.
This is about bringing cloud resources closer to user or customer locations. It is a service that is guarded by the public cloud provider, but is physically closer to the origin of the data or the client's facilities. In other words, the distributed cloud can be understood as an outstretched arm of the public cloud.
Some of the main benefits of this technology are that it supports large, accelerates, and meets the needs demanded by today's market. Increasing demands for companies using the cloud are low latency and latency reduction. Latency is the time it takes for information to come and go from the source to the data center, and back. In turn, this advantage comes with efficiency in processing costs.
By being close to the country or region, it's easier for companies to comply with certain rules or regulations. And that closeness translates into better speed performance and higher processing power, which makes the service faster and more efficient.
The distributed cloud benefits many companies and industries, especially those that offer streaming services. Those companies require high speed to transmit data to the end-user.
Therefore, the benefits of the distributed cloud are summarized as follows: latency reduction, high speed, large volume data processing, and acceleration of innovation through an efficient business model.
Hybrid cloud: taking advantage of the private and public cloud
Now, let's dive into hybrid cloud. Hybrid cloud is the technology strategy that connects private and public cloud, in order to take advantage of the best of both worlds through efficient interconnection.
The best way to understand this technological solution is to separate the terms and then unify them. With the private cloud (internal level), companies must comply with specific legislative requirements and certifications, as mission-critical systems require all operations to be guaranteed. But by linking it to the public cloud (external level), corporations can decentralize platforms, with the aim of creating greater resilience and efficiencies. Companies will save money, thanks to a combined strategy.
Disaster recovery and backup solutions are worth the investment
The great dependence of current companies on technology and the internet makes it necessary for them to have mechanisms and tools that allow them to ensure business continuity. If an incident occurs that prevents access to work platforms or information of a company, the business will experience negative consequences such as decreased revenue, loss of customers, or tarnished business reputation.
Security policies, backup systems, and disaster recovery are essential for a company to be prepared for any adversity. Being able to react in an organized and agile way guarantees the continuity of business activity.
A disaster recovery plan allows the company to continue operating, even if incidents as serious as a fire or flood occur.
What is a disaster recovery (DR) plan?
A DR plan consists of a series of actions and resources that aim to serve as a guide when a disaster occurs that affects the technological infrastructure of the company. This plan includes quick and concise actions that minimize damages and allow recovery time within the lowest possible cost and time.
With a disaster recovery plan, the company will be prepared to act in an agile and efficient way. A well-thought-out plan includes action protocols that employees have to carry out, and includes how long it will take to recover data and restore the system (recovery time).
A DR plan must be dynamic and within the philosophy of continuous improvement of the business, so that the company can be prepared for new risks and threats.
What are the risks of suffering a disaster?
The use of data centers to store information and applications used by a company can give a false sense of security. It brings to mind the saying "out of sight, out of mind." Since the data centers are outside the business premises, it seems that problems that affect its operation cannot occur.
However, infrastructure is always exposed to risky situations that may occur. Disasters such as fires, floods, or power outages can render a data center inoperative, resulting in the company not being able to carry out its activity.
Other serious incidents that directly affect business continuity are hardware or software errors, computer attacks (hackers), internal boycott (by the workers themselves), or human errors. In the face of this type of incident, having a DR plan is the best way to minimize damage and ensure that the activity of the company is not affected.
How to mitigate the effects of disasters with DR plan
Implementing a good disaster recovery plan is the best solution to be able to react to these serious incidents that can affect a company.
When designing an IT disaster recovery plan, the existing risks in the face of disasters must be evaluated and analyzed to see what impact they could have on the company. With this information, disaster recovery policies and strategies can be developed to ensure business continuity.
In a disaster recovery plan, all the company's processes and procedures must be analyzed and customized solutions to prepare for each type of failure that may occur. By analyzing the critical points, it will be possible to identify those areas that may endanger the operation of the business, and thus implement the necessary measures to react immediately to a problem or incident.
Wursta is here to help you navigate the cloud
As technology advisors, we've untangled and uncomplicated customers' infrastructure and network systems. We have expertise in optimizing systems, training employees, creating cohesive operations, and more.
Cloud optimization isn't' one-size-fits-all. If you'd like to learn more about disaster recovery, multi-cloud solutions, or how to prevent downtime and reduce latency, let's connect.