New Built-in Interoperability Between Google Meet and Zoom
Bridging the Gap Between Locations & Device
Google recognizes that platform interoperability challenges have caused organizations to struggle to connect their conference rooms to customers, partners, or colleagues in different organizations. On October 26, 2022, Google announced efforts to bring Google Meet to more meeting rooms and shared spaces. To help, "bridge the gap between locations and device," Google invested in improvements to the experience for in-room and remote participants alike.
Google Meet and Zoom Interoperability
Google is introducing video conferencing device interoperability for Google Meet with Zoom, which will allow you to:
Join Zoom meetings from Google Meet hardware devices
Join Google Meet meetings from Zoom Rooms
"This means Zoom Rooms will be able to join Google Meet meetings, and Google Meet devices will be able to join Zoom Meetings — either directly from a Zoom Room or a Google Meet device calendar with a single touch of a button, or by entering in a meeting code."
Zoom interop supports core video conferencing features. However, some advanced features, such as polls, wired present, and dual-screen support may not be available when using Meet hardware to join Zoom Meetings and vice versa.
Scheduled join and join via meeting code will be supported, as will the ability to configure no-knock joining (lobby bypass) in either direction.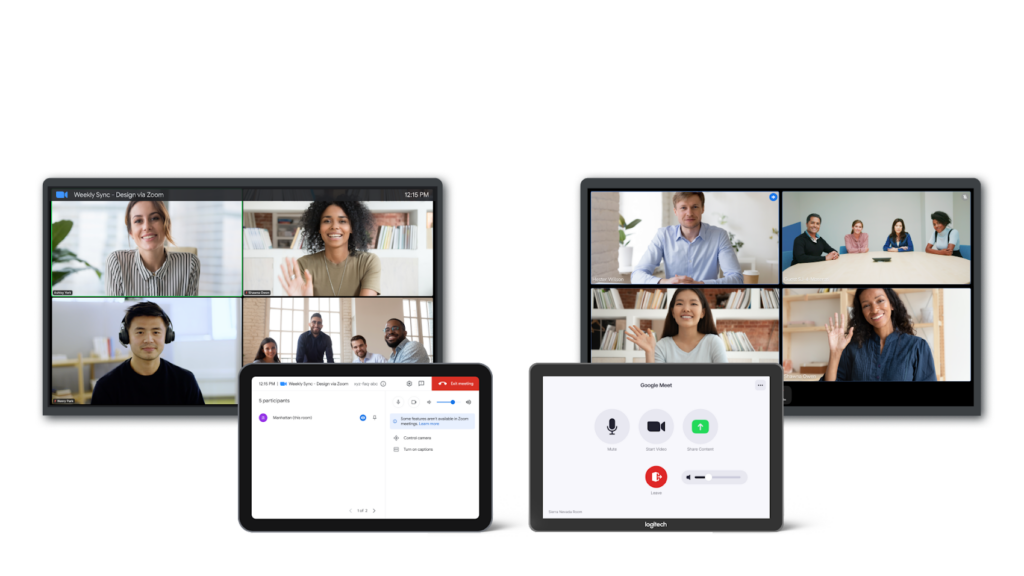 No Additional Licensing Cost
There is no additional cost associated with using this new built-in interoperability feature on supported devices.
The release makes it even easier to connect with people outside of the Google Meet ecosystem. Similar built-in interoperability is already available between Google Meet and Cisco Webex on each platform's respective devices.
Zoom Interop on Google Meet Hardware
Zoom interop on Google Meet hardware will be available on devices by default, although it can be disabled in the Workspace Admin console at the OU level.
When enabled by your admin, end users have two options for joining a Zoom meeting from a Google Meet hardware device.
Zoom interop on Google Meet hardware is available to all Google Workspace customers, as well as G Suite Basic and Business customers with Google Meet hardware. All currently supported Google Meet hardware devices that have not yet reached their auto-update expiration date will receive the feature.
Meet Interop on Zoom Rooms
Meet interop on Zoom Rooms will be off by default and can be enabled from the Zoom Admin. When enabled by your admin, end users have two options for joining a Meet meeting from a Zoom Room.
Meet interop on Zoom Rooms is available to all Zoom Rooms customers on a supported Zoom Rooms device or appliance. Note that your device may not fully support the feature until its manufacturer has pushed the latest Zoom Rooms software update to its devices.

Available Throughout January
Gradual rollout of the admin setting of Zoom interop on Meet hardware began on January 19, 2023. The remaining functionality continues to roll out this month. Read more about the update from Google here.