New AI Innovations from Google – Coming Soon to an App Near You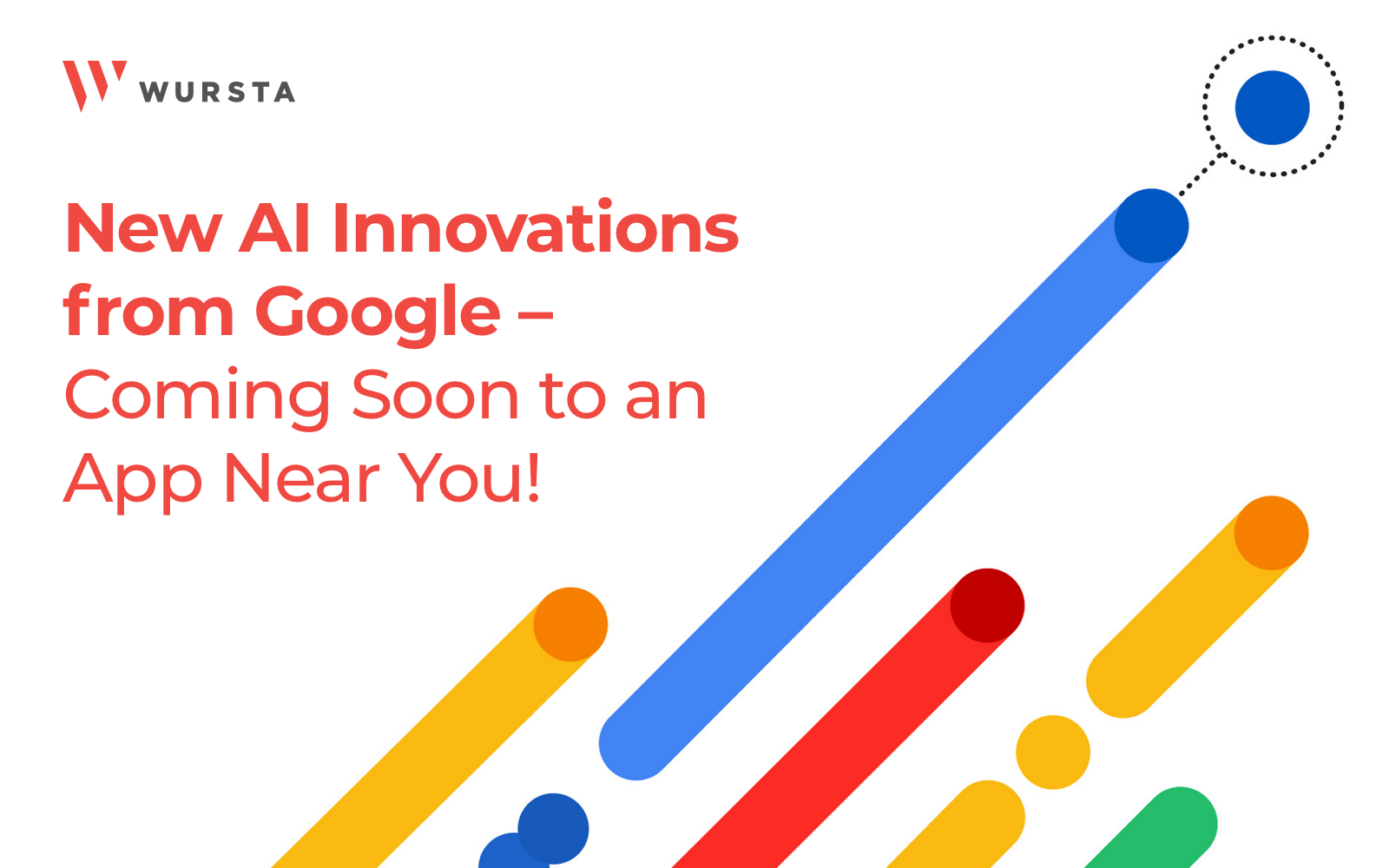 AI is a hot topic, particularly with the recent release of ChatGPT. I don't envy teachers with the problem of trying to discern which student essays were AI-generated. Putting aside such academic conundrums, Google is innovating -as usual- and releasing AI functionality that can help us be more efficient.
Google has already leveraged AI as a transformational component, with time-saving advances like Smart Compose and Smart Reply, and auto-generated Summaries in Google Docs. On March 14, the company announced several new AI releases. The company is committed to making AI accessible to everyone and is now at a pivotal moment in their AI journey.
1. AI-Powered Writing Features in Docs & Gmail 
Google announced, "We're now making it possible for Workspace users to harness the power of generative AI to create, connect, and collaborate like never before." The company also shared their broader vision for how Workspace is evolving to incorporate AI across the entire Workspace collection of tools.
Advances in generative AI are allowing Google to deliver on Workspace's mission in new ways. Google will be bringing new generative-AI experiences to trusted testers on a rolling basis throughout the year, before making them available publicly.
To overcome the inertia of a blank page, embedded generative AI in Docs and Gmail will help you get started writing. "Simply type a topic you'd like to write about, and a draft will instantly be generated for you." New generative AI capabilities will also help you rewrite content, such as making the tone more formal. These AI capabilities to support drafting and editing text will also be available in Gmail.
While continuing to write and edit, the user remains in control. Your collaborative AI partner will deliver more suggestions as needed, that you're able to accept, edit, and change. Google notes it's clear that, "AI is no replacement for the ingenuity, creativity, and smarts of real people." (As a pro-writer, I always appreciate when this sentiment is reiterated!)
2. Developers Can Explore & Prototype with Generative AI Apps
The power of generative AI is also coming to developers and businesses. Google shared their early progress in developing large language models to bring to their products. "Developers and businesses can now try new APIs and products that make it easy, safe and scalable to start building with Google's best AI models through Google Cloud and a new prototyping environment called MakerSuite."
For developers, PaLM API is an easy and safe way to build on top of Google's best language models.
3. Bringing Generative AI Capabilities to Google Cloud
New generative AI capabilities coming to the Google Cloud AI portfolio will help developers and organizations access enterprise-level safety, security, and privacy, as well as integrate with their existing Cloud solutions.
Generative AI support in Vertex AI: Gives data science teams access to foundation models from Google and others, letting them build and customize atop these models on the same platform they use for homegrown ML models and MLOps. Vertex AI now provides foundation models, initially for generating text and images, and over time with audio and video. Google Cloud customers will have the ability to discover models, create and modify prompts, fine tune them with their own data, and deploy applications that use these new technologies.
Generative AI App Builder: Enabling businesses and governments to build their own AI-powered chat interfaces, digital assistants, bots, custom search engines, and more. Developers have API access to Google's foundation models and can use out-of-the-box templates to jumpstart the creation of gen apps in minutes or hours.
New AI partnerships and programs: As part of their commitment to being the most open cloud provider, Google is expanding their AI ecosystem and specialized programs for technology partners, AI-focused software providers, and startups.
Iterative Roll Out Starting with The Trusted Tester Program
Recognizing that AI-based capabilities get better with human feedback, Google invites external and internal testers to "pressure test" new experiences. The company intends to iterate and refine these new experiences before making them available more broadly.
New Workspace experiences will be launched this month via Google's trusted tester program, starting with English in the United States. Beginning March 14, 2023, trusted testers can access Vertex AI with Generative AI support and Generative AI App Builder, and select developers can access the PaLM API and MakerSuite in Private Preview.
Google states that they're just getting started delivering the full potential of generative AI across Workspace.
Taking AI Very Seriously
Google takes getting this right very seriously, and acknowledges that, "building features with AI requires great care, thoughtful experimentation, and many iterations driven by user feedback." The company has established AI Principles to guide product design, which include a list of four AI apps Google will not pursue along with directives such as:
Be socially beneficial
Avoid creating or reinforcing unfair bias
Be accountable to people
Rolling Out at Your Organization
As these new features are rolled out to more Workspace users, contact Wursta for assistance increasing adoption, so your organization can make full use of all available functionality.