Small Business Security 101: Google Cloud and Google Workspace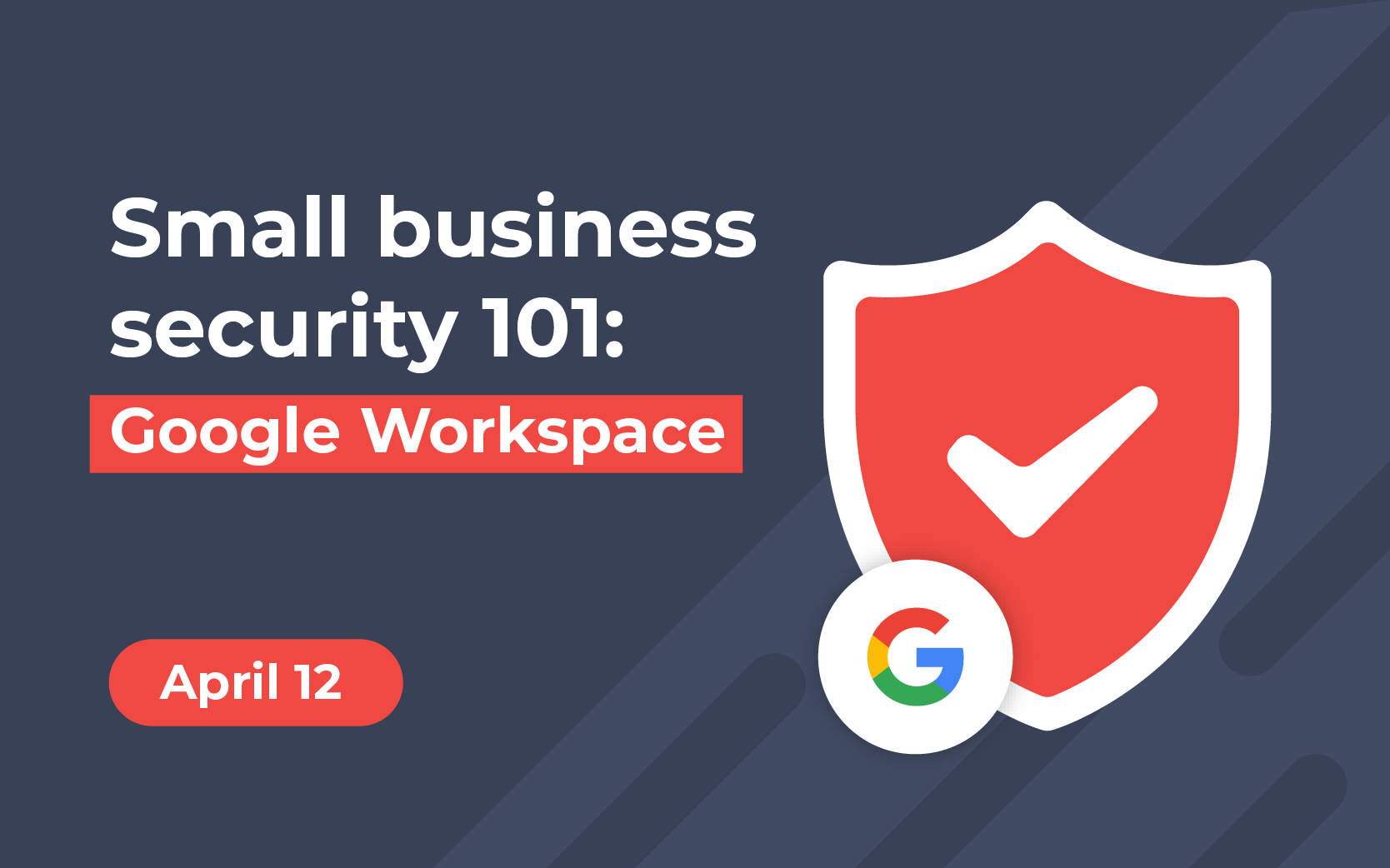 At the beginning of April, we hosted two events focusing on small business security. While these sessions were focused on small businesses and companies with limited resources, anyone can use this knowledge to brush up on security best practices.
Our first event was an overview of cloud fundamentals, specifically focusing on how Google Cloud is built with security in mind. By using Google Cloud and its products, your company will automatically be enrolled in security best practices, plus there are easy ways to customize settings to work for you.
Our second event of the series dove deeper into how to apply the security best practices of session one with Google Workspace. Here, we break down more tactical ways to implement security at your organization. In this blog post, we'll cover three main topics from both sessions.
Scroll down to the bottom to watch the recordings of each webinar or reach our to our team and we can hop on a quick call to discuss security best practices in more detail.
User management is easier when you automate
While most of the content we discussed in this series focuses on Google products, user management is platform agnostic; this is something all IT professionals should prioritize.
Ensuring your users are secure starts with the basics – do they use complex passwords and reset them regularly to keep their accounts secure?
In Google's Admin console, you can control your user's password complexity, expiration, and usage. Be sure they're not using their name or any obvious information in their password. You can choose to have users reset their passwords every 6 months and not allow them to use any of their past passwords.
Below is an image demonstrating how valuable it is to use complex passwords as some simple passwords can be solved in a matter of seconds.
Also, do you have two-factor verification enabled at your organization and required for your users? If not, this is an easy first step to take to keep your team secured. Google's 2-Step Verification allows you as the administrator to customize how and when to enforce this feature.
Onboarding and offboarding users, particularly offboarding, will resolve many security issues. There are many ways to automate these processes using custom scripts and development within Google Workspace. By including these processes in your employee lifecycle, you'll ensure your employees and your data are secure and compliant.
Cloud systems integrations and management helps you focus on your business, not on managing your IT system
As a small business, your main focus should be your work, not ensuring the security of your cloud systems. Maintaining security best practices and providing support for your users and systems is a lot of work if you try to use independent or third-party systems. You'd constantly be squeezing in software and security patches, manually upgrading systems, and monitoring security 24/7. It's a job (or three) on its own.
With Google, you can focus on your business, and know that security maintenance, monitoring 24/7, and enforcing security policies will happen automatically within the parameters you've selected for your organization. It's much easier and cheaper to manage than buying and hosting your own hardware. Plus, Google has over 99% uptime and has been perfecting their SLA for years.
On top of that, Google is constantly making product enhancements and adding new features to ensure you and your customers are secure. Features like Client-side encryption in Google Workspace support multiple file types to ensure encryption at rest and in transit.
As your business grows, be sure you can scale quickly and seamlessly with resilience built into your infrastructure. Learn more about why Google Cloud is the best option by comparing it side-by-side with competitors here.
Ensure success with security training for your team
When it comes to communication, Gmail is set up to be a secure file sharing and emailing system. Google ensures the highest level of TLS encryption available. Gmail by default also protects your organization from malware and malicious links and displays a warning before you click links to untrusted domains. These are all necessary precautions that would be difficult for an organization to manage on its own or through a third party. Instead, it's all built into Google's system.
If bad actors do slip through, training your team is your best defense. Regardless of the system or devices you're using, educating your employees about phishing attacks is one of the best security solutions you can implement in your organization.
At Wursta, we recommend KnowBe4 to educate your employees and to test their ability to spot phishing. KnowBe4 allows you to phish your employees with emails that mimic phishing emails. If your employee fails the test, it automatically enrolls them into training.
For a no-cost, easy-to-use option, Google has created a phishing exercise simulator for Google Workspace users. We'd highly recommend having every employee take this quiz at least once a quarter to brush up on what phishing attacks look like.
Watch our webinar about Google Cloud security (part 1 of the series)
Watch our webinar about Google Workspace security (part 2 of the series)
Wursta is here to help you navigate security and the cloud
Using Google helps in so many ways – collaboration, data integrity, security, device management, infrastructure management, and more. If this sounds overwhelming, that's why we're here!
As industry experts, we have your best interests at heart and are committed to your overall success. If you're interested in partnering with us, please reach out to info@wursta.com or fill out this form and someone will be in contact with you soon.