Why Migrating to GA4 Should be A Priority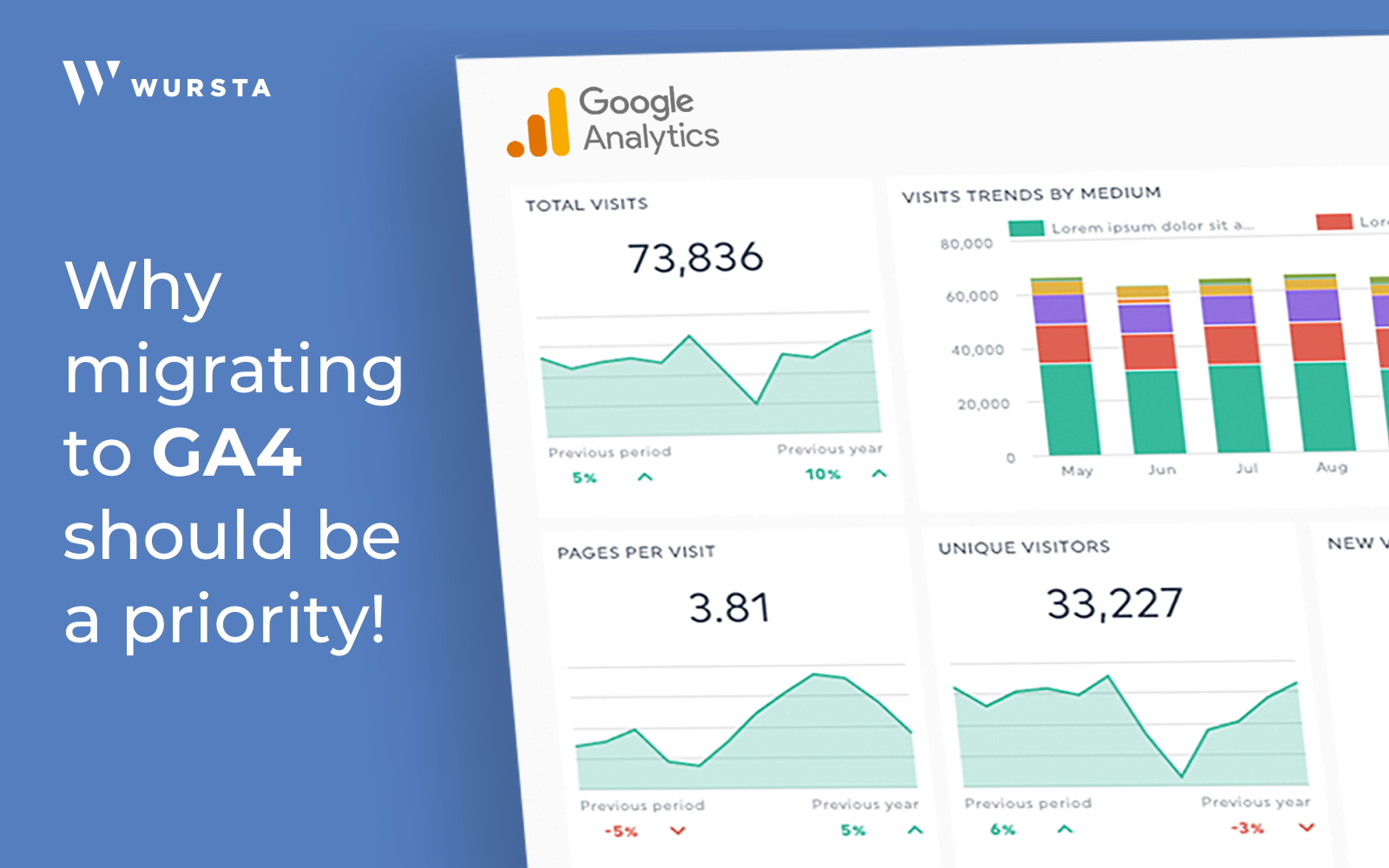 Universal Analytics will be going away
Google Analytics 4 is the next-generation measurement solution, and it's replacing Universal Analytics.
On July 1, 2023, standard Universal Analytics properties will stop processing new hits.
If you still rely on Universal Analytics, we recommend that you prepare to use Google Analytics 4 going forward.
GA4 is running and ready for businesses to move over, however it's not a simple migration. It's not as easy as simply changing out the code and then carrying on with business as usual.
There are fundamental changes in features and how you access reports and view the data that GA4 is collecting which many businesses have been slow to adopt GA4.
Understand what's going to happen
Until July 1, 2023, you can continue to use and collect new data in your Universal Analytics properties.
After July 1, 2023, you'll be able to access your previously processed data in your Universal Analytics property for at least six months. We know your data is important to you, and we strongly encourage you to export your historical reports during this time.
In the coming months, we'll provide a future date for when existing Universal Analytics properties will no longer be available. After this future date, you'll no longer be able to see your Universal Analytics reports in the Analytics interface or access your Universal Analytics data via the API.
At the end of 2023, Universal Analytics will be completely shut down and the historical data it was storing will be gone.
Why Migrating to GA4 Should be A Priority
Don't be caught off guard and not be ready for the switch.
The migration is more involved than simply switching out a few lines of code. There's a lot of configuration that marketers and business owners are going to need to set up in GA4 to make it work for their businesses
You'll not only need to learn the new system yourself but will also need to teach and train your teams on how to use it.
It should be a top priority now because you'll need to know how to use the system and reporting interface so you can continue to make wise decisions and increase conversions and sales.
Doing so will allow you to build the necessary historical data and usage in the new experience, preparing you for continuity once Universal Analytics is no longer available.
If you have a Universal Analytics property, you must migrate. The earlier you migrate, the more historical data and insights you will have in Google Analytics 4.
Reasons to Migrate to GA4 Now
There are some important reasons why you should consider migrating to GA4 right now instead of waiting. While you can delay as much as you want, you eventually will need to switch over to GA4 anyway.
You should start collecting data now so you can perform a year-over-year analysis, you won't be able to import your previous data.
Begin to enjoy the benefits of having better data now. It's a great way to increase your website's effectiveness since you can make more informed decisions based on enhanced customer reports.
You can consider it a soft launch period – take your time this way and get more comfortable with the changes instead of being pushed or rushed into it.
Take this opportunity to make certain your goals are being tracked correctly and everything is set up the way you want it to be
GA4 is a New Property designed for the Future of Measurement
GA4 will be a completely different way to collect data but will be better quality in platform, website and app improving privacy controls.
Collects both website and app data to better understand the customer journey
Uses event-based data instead of session-based
Includes privacy controls such as cookieless measurement, and behavioral and conversion modeling
Predictive capabilities offer guidance without complex models
Direct integrations to media platforms help drive actions on your website or app