Take a Look at Embedded Analytics with Looker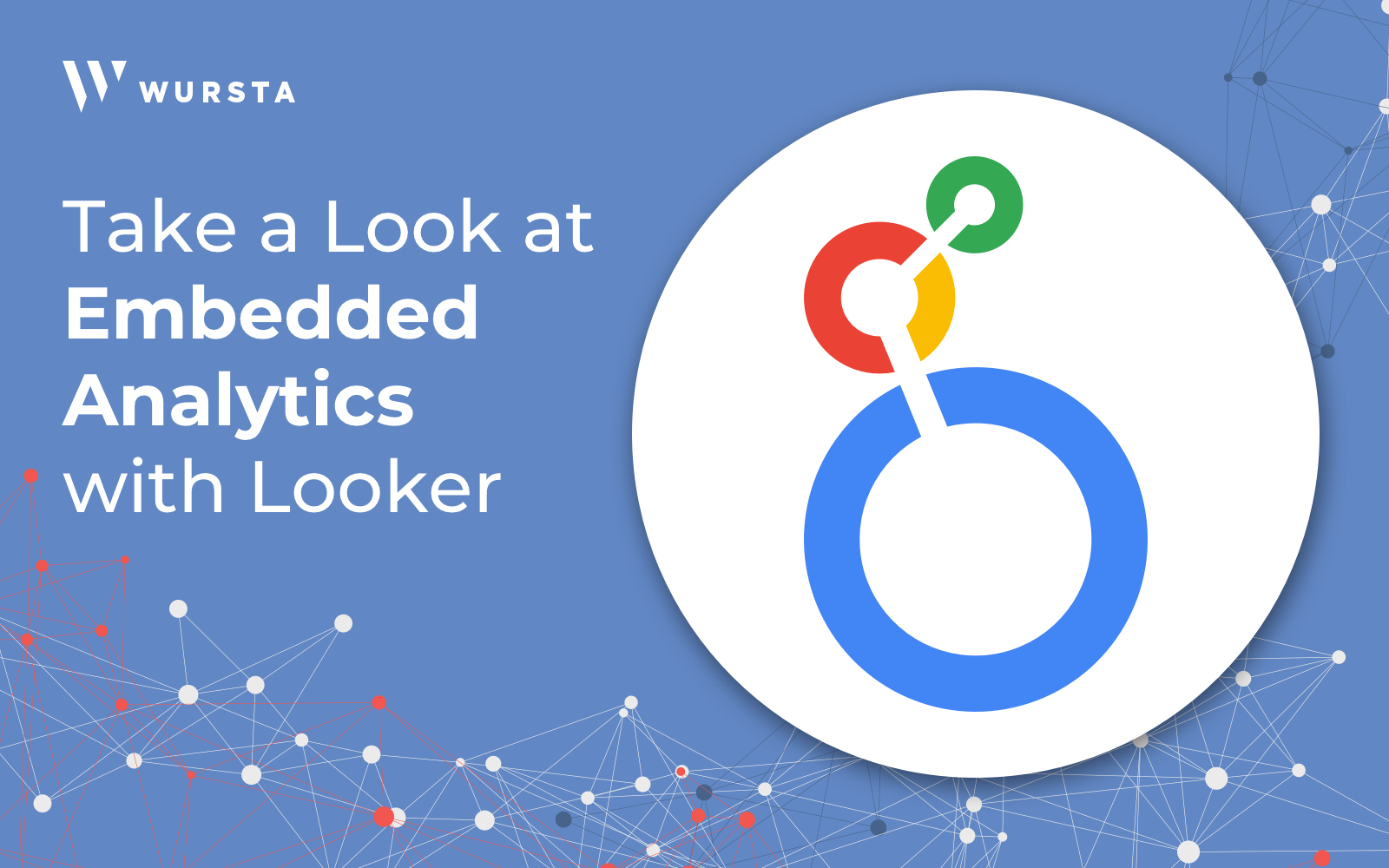 "You can't manage what you can't measure." While there may be debate around this statement, the fact remains that organizations of all kinds need data insights to manage operations. Business intelligence (BI) comes in many forms, such as the ubiquitous spreadsheet people wrestle with to crunch numbers. But more sophisticated tools are available to develop those formulas, generate and share data visualizations, and even automate downstream processes. Google's BI tool, Looker, enables all of that critical functionality in addition to embedding seamlessly in other applications.
Wursta is hosting a webinar on Tuesday, June 27 at 5 PM Central, "Embedded Analytics with Looker: A Deep Dive." In advance of that session, we're exploring what embedded analytics means and why you should care.
What is Looker Business Intelligence?
Looker was founded in 2012 by Lloyd Tabb and Ben Porterfield. The product grew out of Tabb's experience building software at companies like Netscape. (Look it up, kids.)
Google finalized their acquisition of Looker in 2020. Now a part of Google Cloud, Looker is a cloud-based BI platform that helps you drive better outcomes through smarter data-driven experiences.
Find True Power In Your Data
Just as Google organizes the world's information and makes it universally accessible and useful, Looker does the same for your business data. That means Looker can take your data from multiple clouds and present it to you, your employees, and your customers in a secure, fresh, consistent, and real-time view.
LookML (Looker Modeling Language) is the language that's used in Looker to create semantic data models. LookML syntax has a structure that is clear and easy to learn, and users don't need prior experience with programming languages to understand it.
Powering Insights Seamlessly with Looker to Transform the Hiring Experience
A great example of the power of Looker is Harver, a pre-employment assessment software company, who uses data and machine learning to automate parts of the application, interview, and hiring process for some of the world's largest global brands. Harver needed an analytics solution that could scale to provide customers with self-service, real time, actionable insights to improve the quality and efficiency of their hiring processes. Initially, the Harver team relied on labor-intensive statistical analysis in R or Excel to deliver hiring metrics to their customers. Automation was necessary to scale the business and serve enterprise clients.
Harver chose Looker, which is now embedded seamlessly within the Harver platform, delivering the same look and feel to end users. This enables the Harver team to remain focused on their customers and product, without the need to invest the time in building an analytics offering from scratch.
Analytics Integrated with Operations
"Data is most valuable to an organization when it's married to context from adjacent platforms within your recruitment tech stack," said Greg DiTulio, Vice President of Delivery and Customer Success at Harver.
Embedding analytics enables business users to view key metrics directly within the applications they use every day. This convenience speeds decision making and boosts efficiency. Users can save time with analytics such as:
Conversion rates for each landing page in a marketing campaign
Sales increases due to short-term pricing discounts
Profit margins for different types of services
See it in Action!
Wursta is partnering with Google and Looker to deliver an in-depth demonstration of how to successfully use embedded analytics within the Looker platform. The webinar will show you the product in action so you can apply it to your teams, with high-level use cases and expert knowledge on why embedded analytics with Looker will help your users make better decisions with data and improve your overall business performance. Register now.